AriaDx Realtime PCR System by Agilent Technologies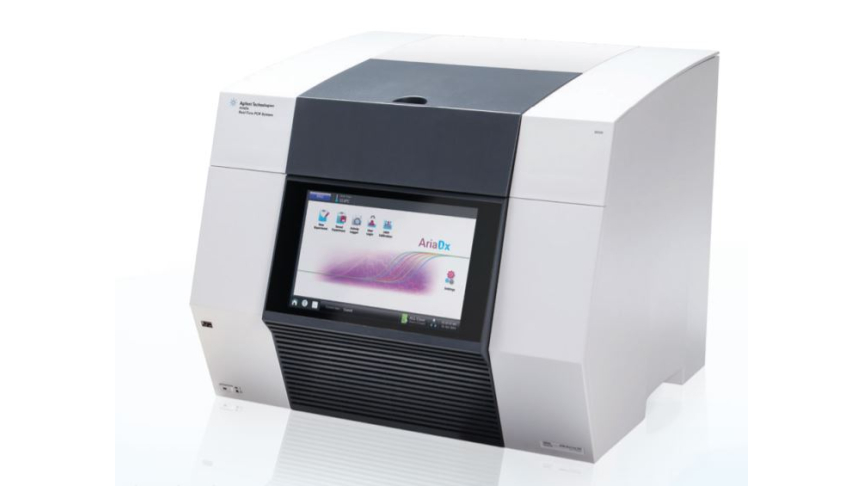 AriaDx combines a state-of-the-art thermal cycler, advanced optical system with LED excitation source, and complete data analysis software. Can be used with many fluorescence detection chemistries including SYBR Green and EvaGreen dyes.
AriaDx offers a modular and flexible design. The instrument holds up to six optics modules. The scanning optics design delivers optimal separation between dyes and between samples, as well as fluorogenic probe systems including TaqMan probes.
For In Vitro Diagnostic Use
Features:
Usable with many fluorescence detection chemistries including SYBR Green and EvaGreen dyes
Combines state-of-the-art thermal cycler, advanced optical system with LED excitation source, and complete data analysis software
Holds up to six optics modules
medical equipment
Block format
96-well
Block type
96-well
Canals
6
Comparative quantitation
--
CY3 542.0 – 568.5nm
CY5 635.0 – 665.0nm.
Detection range
--
Detection Sources
8 silicon photo-detectors per optical module
Dimensions (W х L х H)
50 cm x 46 cm x 42 cm
Dyes
SYBR/FAM 462.5 – 516.0nm
Electrical Power (input)
100 – 240VAC, 50/60Hz, 1100A
Excitation range
--
Excitation Source
8 dye specific LEDs per optical module
Fidelity
Discriminates between 2 fold populations ranging from 100k to 12 copies with 95% confidence
HEX 535.0 – 555.0nm
ROX 585.0 – 610.0nm
Maximum ramp rate
6°C/sec
Medium ramp rate
2,5°С/sec
Metagenomic Profiling (shotgun metagenomics, metatranscriptomics
--
Minimum amplification time
--
Multiplex
Difference in Ct between single-plex and multiplex assay wells is <0.7
Reaction speed
--
Reaction volume
10-30 μL
Reference day
Yes
Sample containers
0.2ml tubes, 96 well plates, strip tubes
Screen
Тouchscreen
Small Whole-Genome Sequencing (microbe, virus)
--
Software
Affordable online
Temperature accuracy
± 0.2°C
Temperature range
25.0 – 99.9°C
Temperature uniformity
± 0.4ºС
Temperature zones
--
Thermal System
Six peltiers made from two ceramic plates with semi-conductor elements, 96 well
USB interface
+
Weight
23 kg